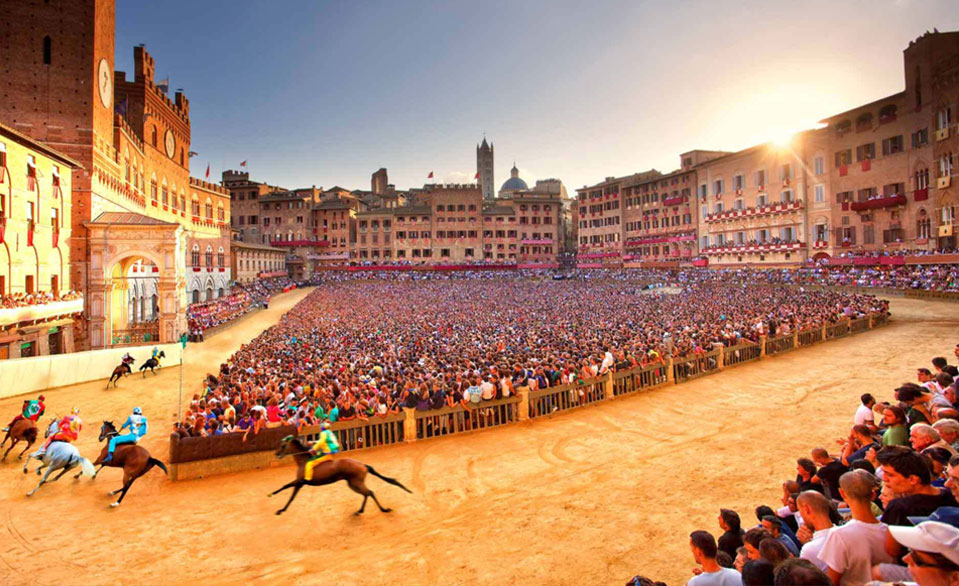 The famous horse race of Siena, called Palio di Siena, is a very important and heart-felt event, it is not just a mere historical commemoration, but it is an integral part of the people of this city, since the contrada (the city district) is like a larger family, and the contradaioli (the district's members) are primarily friends.
The Palio is run twice a year: the first one, which takes place on July 2, is called Palio di Santa Maria in Provenzano ("Palio of Saint Mary in Provenzano"), a church in Siena on whose main altar is a bust of the Virgin Mary,that, based on a legend, has no arms.
 The second Palio is run on August 16, the day after the feast of the Assumption of Mary, and therefore named Paliodell'Assunta ("Palio of the Assumption").
The name "Palio" comes from "drappellone" ("drape, banner"),also known as "cencio" ("rag"), which is a finely worked piece of silk, the prize of the competition. It is presented one month before the race, and it is the artwork of great artists: a Sienese artist is called to paint the drappellone for the July Palio, and the subject must be the Madonna di Provenzano; while for the August Palio, it is an international artist that has to represent the iconography of the Assumption; among them some famous names of the past:Botero and Guttuso. Continue reading